There's actually a number of theatrical and artistic works in Singapore which reference Annabel Chong. She's that much of an icon. I've already listed one amateur e-mail song parody, but let's look at how the arts world reacted.

The first, and possibly the most influential so far, was Alfian Sa'at's Annabel Lee's Last Stand (1999), originally performed by The Necessary Stage and directed by Jeff Chen in a series of short political sketches by Alfian and Chong Tze Chien entitled sex.violence.blood.gore.



The sketch was based on an allegorical combination of Annabel Chong and Lee Kuan Yew's biographies. The full text is available here, on Alf's blog. sex.violence.blood.gore was censored in 1999, with the police demanding that two of Chong Tze Chien's sketches and one of Alfian's not be shown. Alf was consequently very grateful when Teater Tribunalen of Stockholm, Sweden, staged his version of the script in its entirety. (The image above is from that production in 2006. Yup, those are angmohs wearing black hair extensions.)

The second, which came out in Action Theatre's first 42@Waterloo Festival (Nov 1999), was Rosita Ng's Baby, You Can Drive My Car. This was a one-woman show, performed by the playwright and directed by Ekachai Uekrongtham. Sadly, I didn't watch this (I was a poor student at the time), and Rosita's no longer in theatre, so I know very little about this production.

The third I'm aware of was Brian Gothong Tan's short video, Annabel Chong, which was exhibited as part of his installation for the Singapore Biennale, We Live in a Dangerous World. The video portrays Benny Lim of The Fun Stage in drag with a Suzie Wong-wig and red lipstick on, naked from the shoulders up, humping up and down, screaming out, "The death penalty is immoral! The death penalty is immoral!"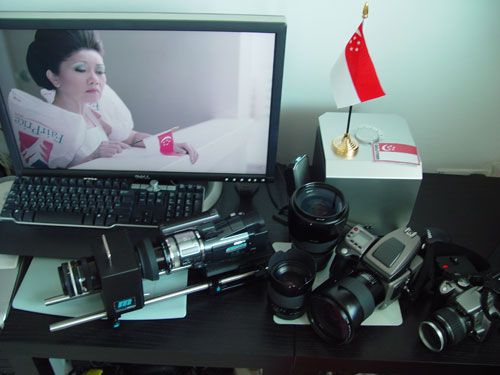 No video, but here's a post-production shot of his work on Imelda Goes to Singapore, another campy interrogation of a Southeast Asian legend. More of his videos here.

I'm quite sure there are references to Annabel in other media I've left out - painting, sculpture, epic poetry, Chinese calligraphy, batik, performance art, a cappella?

Suggest a few resources.