A lot of people out there - including the principal of the convent school where my godmother teaches - are asking whether there'll be a rerun of 251 soon. I see no reason why not, since there's a clear demand and Toy Factory has the rights to run my play for two more years.

Since we're no longer doing it under the aegis of the Esplanade, however, some further portions may be cut (which would be terribly inconsistent, but that's cultural regulation for you).

However, one positive side effect of not booking early may be that we'll be able to use Ho Tzu Nyen (pictured above) and Fran Borgia's real-super-dua-liap multimedia, which was going to be projected onto the white stage if only we hadn't rented the wrong projector (ooooei!).

I've been badgering Tzu Nyen for a photo - he's this amazing conceptual-video-painting-installation-performance-lecture artist and I loved taking tour groups to see his "Bohemian Rhapsody Project" in the Singapore Biennale. However, he's been pretty reticent.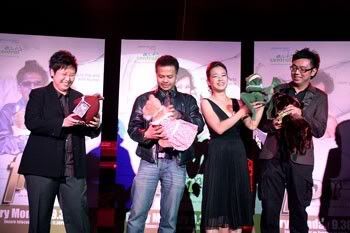 He told me to use Google Images to get his portrait, so here we are. (He's the on the far right at the Front Awards, grimacing at his dog).

One other reason I wanted to meet up with Tzu Nyen was because I'd heard that one of his early art projects involved an installation based on two Singapore heroes: Mr Kiasu and Annabel Chong. Once I find out about that properly, I'll add it to the supplementary text section.

However, as of now, I'm fleeing the country, to promote my poetry book at my old university of Columbia in New York City. Yeah, I'll miss the cast party tomorrow night at Loof, but I'll be there in spirit, and I'm sure someone will be taking scandalous photographs in my stead.

Thanks to everyone who's come to the show, and everyone who's been following this cockamamie blog of mine so far 'cos it's the next best thing to getting a ticket. Like General Macarthur, we will damn well try to return.